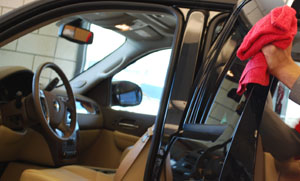 Complete Auto Detailing
Auto Detail Center: 2921 N. 11th St., Bismarck
Auto Detail Scheduling: (701) 354-7136 or (701) 221-9236

Red Carpet Auto Detail Center in North Bismarck is a family owned business that has been providing outstanding auto detailing service in North Dakota for over 30 years. We offer a wide variety of auto detailing options whether you want a full "showroom" ready auto detail, a hand-wash for an oversized or exotic vehicle, or a full service carwash that takes minutes while you wait. We take pride in helping you preserve the resale value of your vehicles. Your complete satisfaction is very important to us!

Cloth upholstery and carpet cleaned using an ultra-high temperature extractor!
Odors ELIMINATED effortlessly with the power of OZONE!
Red Carpet Auto Detail Center uses only the finest Blue Coral Professional Detail Products on your vehicles!

The "Big Red" - Complete Auto Detail Service
Cars – Bundle and Save $90! - $249.99
Vans, SUV's & Pickups – Bundle and Save $90! - $299.99
Only $99.99 – Exterior
Hand Polish & Buff
Adds Deep Shine Protection
Paint & Clear Coat Sealant
Black Magic Tire Enhancer
Safe for all Vehicles
Vans, Trucks & SUV's, add $25
Full Service Wash Included
Only $99.99 – Interior
Interior Cleaning of Dash, Door Panels & Console
Interior Protectant Applied
Vans, Trucks & SUV's, add $25
Full Service Wash Included
Only $89.99 – Seats
Thorough Cleaning of Seats
Removes Grime & Most Stains
Vans, Trucks & SUV's, add $25
Full Service Wash Included
Only $89.99 – Carpets
Thorough Shampooing of Carpets & Floor Mats
Removes Grime & Most Stains
Vans, Trucks & SUV's, add $25
Full Service Wash Included
Only $139.99 – Seats and Carpets
Save $39.99
Free local pickup and delivery with purchase of The "Big Red"
Pickup and delivery $25 for any other services
Appointments available 7 days a week
Odor removal by estimate
Tar and sap removal by estimate
Heavily soiled vehicles by estimate
Minimum detailing charge $75