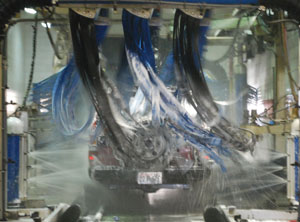 Carwash
Red Carpet Car Wash has a variety of different car washes at our different locations, all of which use the highest quality CHEMQUEST products to clean your car. Between our high quality machines and our friendly staff, we make sure that after experiencing Red Carpet Car Wash, your vehicle looks its absolute best. Below is some more information on our varied car wash services:
Full Service Exterior Tunnel Carwash
(Red Carpet North, Red Carpet South, Red Carpet West Fargo & Red Carpet Fargo locations)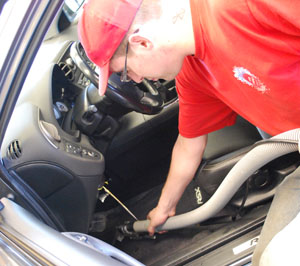 At our full service exterior tunnel carwashes, our friendly staff will first spray off all the mud, bugs, snow, or ice with a high pressured hand sprayer. Once sprayed off, you and your vehicle are sent along to our top of the line Belanger wash tunnel. In the wash tunnel, we only use the finest CHEMQUEST car wash soaps, polishes and cleaners available, making sure your vehicle shines. After going through the wash, in Fargo, your car will experience our hot air drying system, which blows 120 degree hot air to thoroughly dry your vehicle.

In Bismarck, your car wash experience is finished with our friendly staff hand drying your vehicle from top to bottom, along with blowing out your mirrors and door locks to make sure that most of the moisture is removed from your vehicle.
Belanger Vector Rapid Wash, Touchless Carwash
(Red Carpet Interstate location)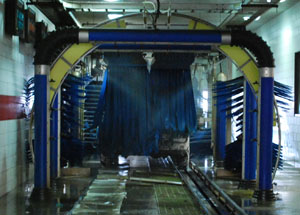 Interstate Red Carpet has our top of the line Belanger Vector Rapid Wash Touchless Car Wash. Using a perfect balance of only the best in CHEMQUEST soaps, polishes, and cleaners along the high pressure wash process, we can bring a brilliant shine to your vehicle in a short amount of time, without laying a finger on the vehicle.
Full Service Red Carpet Carwash
(Red Carpet North location)
Red Carpet Carwash is our top of the line Full Service Carwash, where we take care of everything for your vehicle– inside and out. Our friendly staff starts with the inside by vacuumimg the floors and seats and cleaning the floor mats using mat cleaners and scrubbers. Also, we make sure that the inside windows, dash, and door jams are also cleaned. Your vehicle is then passed into our top of the line Belanger tunnel, where your vehicle will receive its very own spa treatment of CHEMQUEST soaps, polishes, and cleaners.

When out of the tunnel, your vehicle receives the finishing touches by being hand dried. The inside windows, dash, and door jams are also cleaned before the car is ready to be picked up.

In addition to the full array of car washes, you can also receive full detailing services at the North Bismarck location. Stop into the location that best fits your car wash needs, and experience the Red Carpet treatment for your car.